Talk to Maitha Edit
Maitha: "As I said, I sent Giran to track some bandit movements. He was no prey for bandits but he had no backup either. Quirky fellow may be pinned down somewhere. He was on assignment to scout the main road and surrounding areas and return and report his findings. To be honest I'm worried about him. If you could figure this by finding him we can start planning what we are going to do next Just follow this same scouting path.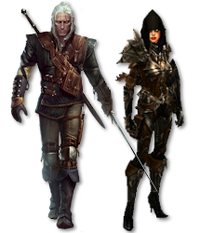 RPG Games
Go to these sites for info or for help with your own wiki!
AdventureQuest • Agarest War • Arcanum: Of Steamworks and Magick Obscura • Baldur's Gate • Biomutant • Dark Souls • Deus Ex • Diablo • Divinity • Dragon Age • Dragon Blaze • Dragon's Dogma • Elder Scrolls • Expeditions: Viking • Fable • Fallout • Faster Than Light • Fate/Grand Order • Five Nights at Freddy's World • For Honor • Grand Chase • Hyper Light Drifter • Ib • Legend of Heroes • Mass Effect • Might & Magic • Onmyoji • Shadowrun • SpellForce • Summoners War • Tales of Erin • Tom Clancy's The Division • Torment • Undertale • Wasteland • The Witcher
Want your community included? See how!
See all of our RPG gaming wikis!